Merrigan Reception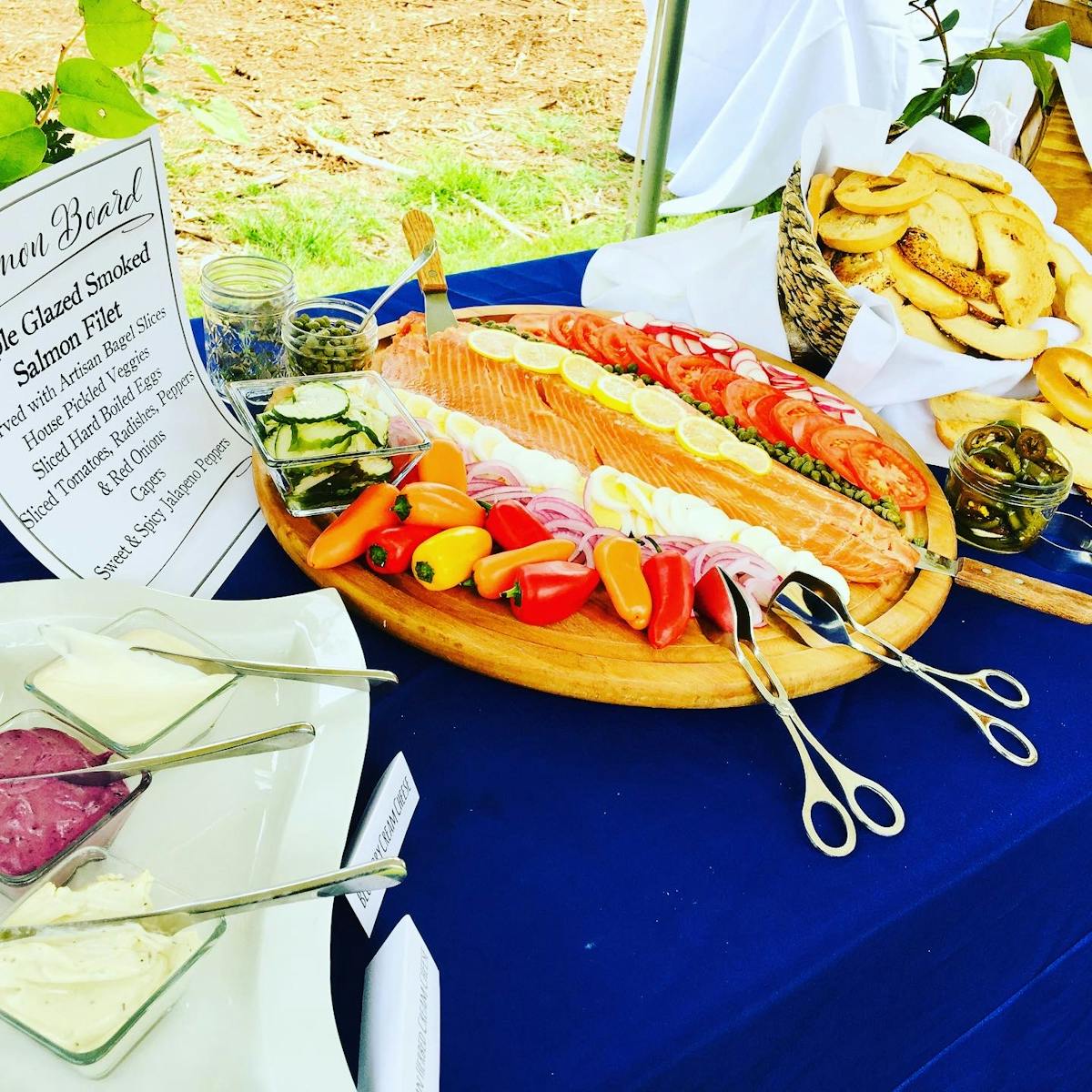 This past weekend we had the privilege of catering a reception for an amazing family. They gave us some ideas of what they would like the menu to be, and we got to be creative with the rest! Between the maple smoked salmon, all of the freshly baked breads and chimichurri pork tenderloin, our staff was excited to create and the guests loved all of the flavors.
The setting was gorgeous with a huge outdoor garden and tables staggered under large Oak trees that allowed just enough sunlight through. Masks were provided along with 4-5 scented hand sanitizers strewn among the tables. We provided gloves and hand sanitizers at the drink table as well as the beginning and end of the buffet. We also got to stretch our creative side with the decor after being quarantined. Please check out the gallery for more amazing pictures.
Light Skewer Duo
Italian salami with herbed cream cheese, marinated sweet peppers, provolone & cherry tomatoes skewers, AND fresh melon, basil, mozzarella & prosciutto with a balsamic drizzle
Dips with Crudite
Southern pimento cheese with bacon, herbed pita triangles, assorted seasonal crudite tray and fire roasted 3 pepper hummus
International Pretzel Board
Soft-baked jumbo pretzels with seasonal berries & grapes, charcuterie to include salami, pepperoni & prosciutto, assortment of international & domestic cheeses, chipotle rosemary nuts, housemade blueberry jam, bacon jam and creole mustard
Southwestern Pasta Salad
Bowtie Pasta with Chipotle Ranch Dressing tossed with Black Beans, Corn, Cherry Tomatoes, Squash and Bell Peppers.
Smoked Salmon Board
Maple glazed smoked salmon filet with assorted cream cheeses, house pickled sweet & spicy jalapenos, hard boiled eggs, assorted peppers, sliced tomatoes, radishes, marinated cucumbers & red onions, capers and bagel slices.
Herb Roasted Chicken
Sliced Herb Roasted Chicken Breast served with Blood Orange Vinaigrette, Lemon Pepper Herb Gremalatta, Julienne Apple-Mint Slaw and Seasonal Greens. Served with Artisan House Breads.
Chimichurri Pork Tenderloin
Pan seared Pork Tenderloin topped with Housemade Chimichurri Sauce. Served with Grilled Pineapple Pico, Roasted Habanero Peach Salsa, Assorted Pickled Vegetables served with House Baked Artisan Breads.
Dessert Station
Cheesecake Bar Bites to include New York style, strawberry swirl, and chocolate caramel as well as lemon bars & brownie bites